This is a
blog post
. To read the original post, please
click here »
In today's episode we look at robots made by
Adept Technologies Inc.
with Product Marketing Manager, Erin Rapacki. She tells us about what it takes to make robots a product.
Erin Rapacki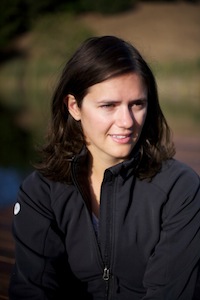 Erin Rapacki has had a dream career, setting foot in many top robotics companies, including DEKA, iRobot, Anybots and now
Adept Technologies Inc.
where she is Product Manager.
Adept has been around for 28 years and is mostly known for its
robot arms
. She tells us about the future of manufacturing and current developments in soft manipulators.
Beyond the industrial world, Adept has been building expertise in
mobile robotics
. Their main platform, the Adept MT series, is able to autonomously navigate in human environments. The idea is to provide partners with a platform that solves core navigation challenges and can be extended with specialized payload. Example applications include transporting samples in hospitals, providing telepresence for specialists, and industrial scenarios.
Finally, Rapacki develops on her recent article on the Automaton blog entitled
Dear Reader, I Have News for You: Robots Are Boring
. In particular, she discusses the media hype surrounding robotics and the need to give people respect for robotics by showing them useful "boring" systems. We'll also be thinking about the need for researchers to ask real world questions and the potential for cloud robotics.
Holiday Robots
Like last year, we ask our listeners to submit videos or audio related to robotics and the holidays! Content can be fictional, scientific or business oriented. We'll be posting the material on our dedicated YouTube channel and select segments will be featured in the episodes until the end of the year. To submit material, simply go to
www.robotspodcast.com/christmas
or send us your material by email to [url=mailto:christmas@robotspodcast.com]christmas@robotspodcast.com[/url].
Check out our first submissions below or go to our
YouTube Channel
.
Links: