In today's episode we take a deeper look at what's behind the hype over autonomous vehicles, and talk to two experts in the field, Alberto Broggi, leader of the Vislab Intercontinental Vehicle Challenge, and Raul Rojas, leader of the Made in Germany autonomous vehicle project.
Alberto Broggi
Raúl Rojas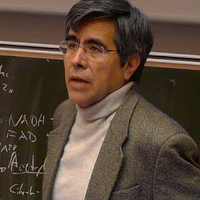 Raúl Rojas is a professor of Computer Science and Mathematics at the Free University of Berlin and a renowned specialist in artificial neural networks.

The FU-Fighters, football-playing robots he helped build, were world champions in 2004 and 2005. He formerly lead an autonomous car project called Spirit of Berlin and is now leading the development of the Made in Germany car, a spin-off project of the AutoNOMOS Project. Although most of his current research and teaching revolves around artificial intelligence and its applications, he holds academic degrees in mathematics and economics.
Links:
---
Latest News:
For more information on this week's news, including pictures and videos of the
two new
robotic grippers
, have a look at the
Robots Forum
.
---
Related episodes: